Dhanwantari Ayurvedic Medical College, Hospital & Research Centre, Nipani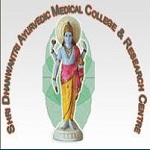 Dhanwantari Ayurvedic Medical College, Hospital & Research Centre, Nipani
Nipani, Karnataka, India
About
Shri Chhatrapati Shivaji Education Society was established by the founder president Dr. Mahadev Ramchandra Deshmukh, in 1992 & registered under Karnataka Society Register act 1960. he medical college attached to the hospital is having fully fledged Preclinical & Para-clinical & Clinical departments, for imparting training to medical students. The departments are managed by senior and experienced teachers. The central library has a large collection of textbooks, reference books, national and international journals. The college provides comfortable hostel accommodation for boys and girls separately.
Facilities:
Library: College has established central library. Central library consist of one reading hall & four reading rooms. There are separate reading rooms for teaching staff. We have subscribed national & international journals, WHO Global Subscription package.
Hostel Facility: Boys & girls hostels are available for students separately, situated in college & hospital campus. In one room 2 to 3 students accommodated. Each room has attached toilet & bathroom. A common mess facility with dining hall is available to girls & boys separately.
Herbal Garden: We have 2609 sq. mt. herbal garden having 277 species, 736 medical plants available.
This plants are used for practical, demonstration and medicinal formulations.
Gallery
Reviews
No reviews received yet.
Be the first to add review