Craft Hospital and Research Centre, Kodungallur
Craft Hospital and Research Centre, Kodungallur
Kodungallur, Kerala, India
About
Craft specializes in fertility research and treatment that houses a team of experts and specialists who are dedicated in helping couples to combat and overcome infertility issues. We realize that every patient has their own goals and dreams. So as a rule of practice, our doctors offer treatment plans with customized protocol to cater needs of every couple. After investigating the severity of the disease, age of the couple and duration of the infertility, we aim at offering the best customized solution. Our achievements are testimonies to the determined efforts by our team to become the Quality driven, advanced, sophisticated center in the world. Craft is the First ISO 9001:2000 Fertility Centre of India. Craft today stands tall with 55000 + babies born at our center solving varied causes of Infertility and more than 12000 babies from IVF-ICSI treatment alone.
Specialties:
Female Infertility
Male Infertility
IVF Lab and Embryology
Sperm and Embryo Freezing
Neonate and Pediatric Care
Medical Genetics
Reproductive Surgery
Affiliation
National Board of Examination (NBE) - New Delhi
Gallery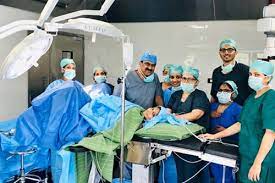 Reviews
No reviews received yet.
Be the first to add review