Bai Jerbai Wadia Hospital for Children (BJWHC), Mumbai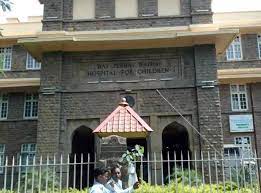 Bai Jerbai Wadia Hospital for Children (BJWHC), Mumbai
Mumbai, Maharashtra, India
About
The Bai Jerbai Wadia Hospital for Children pledges to extend its services to people, regardless of their socio-economic status. Believing strongly in the fact that quality healthcare should not be restricted to only certain sections of society, the BJWHC offers state of the art services for neonatal and pediatric care at affordable costs. This 300 bedded hospital is propelled by a highly accomplished team of over 60 pediatrics specialists devoting themselves to the care of over 1,00,000 children on an out-patient basis, and approximately 10,000 children as In-patients, annually. BJWHC also has the largest Neonatal Intensive Care Unit (NICU) in the West Zone.
Specialties:
Pediatric ENT
Pediatric Liver Clinic
Pediatric and Perinatal HIV Clinic
Pediatric Neurology
Pediatric Neurosurgery
Pediatric Neurology
Pediatric Hematology-Oncology
Pediatric Immunology
Affiliation
National Board of Examination (NBE) - New Delhi
Gallery
Reviews
No reviews received yet.
Be the first to add review