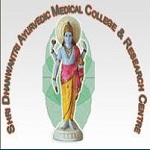 Bachelor of Ayurvedic Medicine and Surgery (BAMS)
Duration: 5.5 Year(s)
Total Seats: 40
Dhanwantari Ayurvedic Medical College, Hospital & Research Centre, Nipani
Nipani, Karnataka, India
123 Views
Overview
Bachelor of Ayurvedic Medicine and Surgery (B.A.M.S.) provides basic education in the integrated system of modern medicine and traditional Ayurveda. It prepares students of profound scholarship in the science of Ayurveda having basic and fundamental knowledge in different subjects of Ayurveda back up by extensive practical training. The program enables a student to become an efficient teacher, a research scholar and a competent Ayurvedic Physician and Surgeon to be able to contribute his mite in the medical and health services.
Accomodation:
Hostel Facility
Faculty
Dr. Laxman Venkappa Aramani
Eligibility
Admission to B.A.M.S. degree course is open to students who have passed the second year of the Pre-University examination of the Karnataka P.U. Board or any other equivalent examination recognised by the Rajiv Gandhi University of Health Sciences with Physics, Chemistry and Biology as optional subjects. The candidates should have obtained at least 50% marks in aggregate in the PCB optionals in the second year of PUC examination, or passed B.Sc. degree with CBZ combination with a minimum of 50% average in the optional subjects and must have studied Physics at PUC or equivalent.
Admission Process:
All admissions made by the college to first year of the B.A.M.S. course are provisional, subject to the approval of the Rajiv Gandhi University of Health Sciences, Bangalore, Karnataka and the institution is not responsible for any loss in this behalf. Out-of-state students should obtain eligibility certificate from the Rajiv Gandhi University of Health Sciences, Bangalore, Karnataka within the last date of admission fixed by the University. The office will arrange for this.
Similar Courses